***Cupcake Martinis (best of BOTH worlds??)***
My good friend Jessica, from My Time as Mom, is turning 30.
***CUPCAKES (Or Martinis)  FOR EVERYONE!!!!***
I adore Jessica.
I like her no nonsense way of saying things, I love that's she's a great mom, a wonderful friend, a smart tech savvy gal and that for whatever reason she helps me with the little stuff and the big stuff, my really dumb questions (don't fight with me Jess, sometimes they are dumb) and she always makes me laugh.
Plus the girl is so generous with her heart, her talents and her time that I sit in awe of every single thing she does.
So when she asked me to write for her while she goes to celebrate turning 30 in Hawaii (VERY JEALOUS).
I didn't even think about saying no. In fact I asked her if I could talk about my own turning 30 story (which happened a million years ago..or I'll like to say "a decade plus 2".) I told her there might be some "racy" memories and she was all for it, so I wrote for her and I'm over at her amazing space today….sharing my story.
Please give her all the love, cupcakes and celebration she deserves as she hits her 3rd decade. I know she's going to love these 10 years as much as I did.
*****************************************************************************
Sometimes being enough is easy.
You hit your stride in your work, in your life and in your heart. Things fall into place and you accomplish things.
But then there are other times, times where your footsteps aren't in sync with your plans and you feel the harmony of your life singing completely out of tune.
This is one of those times for me.
It's a combirnation of things. John's fall, the letdown of the Christmas season, the winter and a small but apparent dose of the seasonal blues. I'm not depressed, just not motivated. I'm not sad, I'm literally just lazy right now. It's just that simple and annoying.
Some of it comes down to expectations. January is suppossed to be a time for "NEW THINGS", a "FRESH START", a time to make those dreams come true. Truthfully, 2011 was more than I could have ever dreamed. I mean, you are here…reading this blog right? I really couldn't ask for more than that..and right now I won't. I am lucky and grateful for the simple stuff.
Add that to the fact that for me January is never really a time for starting over..,instead it was always a time to just REST.
To recharge and hibernate.
I want to hibernate.
My accomplishments this weekend included getting Kimmy and David finished with tears in my eyes, sleeping until 8am yesterday morning, getting our grocery shopping done and attending a 4 yr old party at Chuck E Cheese this afternoon. Oh and I wrote this…I think to prove to myself that I wasn't completely hopeless.
Later this week at Just Be Enough, I'm going to be writing about how the first three months of the year are a time of true celebration for my family and how in the midst of my supreme dislike of winter are these 3 months that mark the days all four of us were born and it gets me through.
But right now, I'm eating junk, I'm watching way too many episodes of Little Einsteins with my sons and I'm wrapped in the softest, warmest blanket waiting to see what the celebrities are wearing to the Golden Globes.
It's going to have to Be Enough. For now.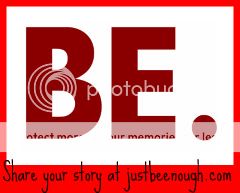 We hope you will read, comment, link up, and explore the stories of others who have linked.
When linking up, please show some JBE love and link back to us with the BE badge for all to see.
Every MONDAY join us…
Write, post, link-up, share your story and your voice.
Be part of carrying the weight of confidence and share our mission to empower, inspire,
and remind women, parents and children that the time has come to celebrate ourselves!
What gives you that "be enough" feeling?