"Pears cannot ripen alone. So we ripened together." – Meridel Le Sueur
Come sit in the circle, leave your doubts and feelings of inadequices outside and sit with us.
They have no place here & are not welcome among us.
Instead all we ask for is your smile.
You have your story, your words typed on a white paper that you fold and refold, that you hold tight in your hands.
Tell it.
Tell your story.
We are here to listen, laugh out loud , chuckle and nod our heads in understanding.
We are here to heed those words you don't say, the meanings behind the monologue and to applaud your bravery and bravado with clapping hands and tear filled eyes.
In this space whatever you need to say can be spoken and whatever you dream can come to fruition.
There is camaraderie here, there is compassion & companionship in our hearts.
There is no need to question your worthiness or quality.
We've been there and now we are here.
Here, you are Enough.
Always, Enough.
Yesterday was our first rehearsal for Listen to Your Mother NYC
 (I did tell you that I've been picked as a cast member right??)
It was a lesson in humility for me, a chance for me to meet really amazing people and to hear their words. Words that blew me away, words that ran the gamut of my emotions, words that changed me.
I arrived feeling like maybe I wasn't enough…
but I left feeling like I was proud to "RIPEN" with each one of the people in that circle.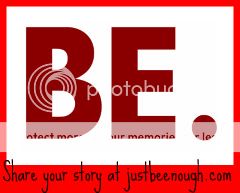 Every MONDAY join us…
Write, Post, Link-Up, share your story and your voice.
Be part of the movement to carry the weight of confidence, & empowerment.
What gives you that "be enough" feeling?
 (and in the spirit of BEING ENOUGH, I nominated a piece for BlogHer's Voices of the Year about my struggle with Infertility, if you are so inclined, I would be so happy if you'd vote for it)
You can vote right here for Being Carried.
---