"Some people strengthen others just by being the kind of people they are."
– John Gardner
Some emotions do not come easy for me. Bragging is one of them. As much as I'd like to think that I am good at something I have always relegated myself to the back of every bus with every word of praise or compliment.
I am just not very good at thinking much of myself.
Instead I'm great at making YOU feel good about yourself and your achievements. I am your best cheerleader and your biggest fan. However, when it comes to looking at myself in the mirror and finding the good, amazing, wonderful person you may tell me I am, I am often at a loss.
Just so you know…it was very hard to write that.
I envy women who can believe in their abilities and run (not walk) after their dreams, confidant in their success. I know that many times it might be a farce, they just might be as scared and unsure as I am, but they don't exude that. They have found a way to show the world that a tiny part of them believes they are deserving and they build, create, soar above the rest of us with little fear.
In all the years that I have been sitting behind this screen I never put much thought into my own words. I took the compliments with a grain of salt and refused to be changed by them. "People are just being nice to me." I didn't want there to be any apprearance of me shouting things to the crowds.
I am happy at the back of the bus, because for me it is enough just to be ON THE BUS.
I am more than content to sit in and among all of you who are writing, creating, designing and moving forward at light speed. I find great strength in yours and so I do what I have always done: I get on the bus, I smile at each one of you as I walk by and whisper (or shout) words of support, love and encouragement and I take my rightful seat, at the back.
However, this year has taken on a life of its own and I find myself in a daily struggle of wanting to shout to the masses and to keep my BIG MOUTH shut about the wonderful things that are happening because I'm not very good at tooting my own horn and honestly I really don't like people who do it.
Becoming a mom has been a lesson in walking a very thin line with praise, bragging and extolling the awesome that is my sons. I find myself falling back into the practice I learned at the knee of a very successful mom and making less of what my children are doing, what they are capable of and how cute, smart or popular they are. I don't want anyone to think I think TOO MUCH of them or my role as mom to them. My mom, for all her success, for all the things she accomplished and achieved never thought much of herself and would make less of it I think for fear that someone would think she was bragging or boasting.
Like my mom, I never want to get caught doing that.
It's sad really, to hide my (small but not insignificant to me) success and now the successes of my sons behind a veil of "oh we're not important" , "we're just like everyone else, nothing to see here!" and  "you don't need to pay any attention to us, because we aren't worthy of it….but YOU? You are!"
I find that now that I will be attending BlogHer, Bloggy Boot Camp and reading with the Amazing cast of Listen to Your Mother NYC, I want so much to be confidant in my worthiness to be in those spaces. To believe that I have achieved this and to feel like I belong there.
For you see, I am excited about this year.
I am so happy that I will be attending my VERY FIRST BLOG conference this May (Bloggy Boot Camp in Philadelphia)  and then when I go to BlogHer in August, I will be part of a panel with my good friends, Kathy, Lori and Mel called "My Blog No Longer Fits Me." and I'm thrilled, but I don't want to tell you about it.
As part of Just Be Enough, my goal is to always find the ENOUGH in the post, to write the end result and leave you with a  thought about me moving toward the acceptance of myself and the true meaning of being ENOUGH in this moment.
But today, I can't.
I don't know if I will ever be able to speak about myself and a success of my own without a catch in my voice , a lump in my throat or a disclaimer before I tell you that I am not , in any way, thinking that I deserve any praise.
 How about you reading? How do you feel about the good things that happen to you and do you share them freely and without guilt?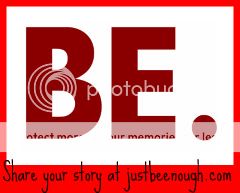 We hope you will read, comment, link up,
and explore the stories of others who have linked.
Have you heard? Next Monday, April 23rd, Be Enough Me is taking on the topic of labels with a special prompt inspired by Ashely Judd, called Change the Conversation.
It is time to look past the obvious for ourselves and our families.
We're inviting posts from voices everywhere to share your labels and who you are beyond that. The focus is whatever you need it to be– from our lives as moms, dads, parents, spouses, professionals, survivors, athletes and more. We invite you to join us, to celebrate our strengths, to celebrate our diversity, to celebrate our voices and change the conversation.
Come back next Monday for the very special link-up. We cannot wait to take the conversation by storm with our voices.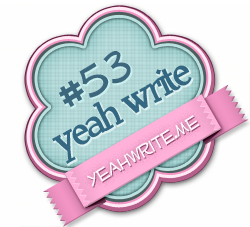 *Thanks for stopping by!!!!*
 If you are a member of BlogHer