It sounds so easy doesn't it?
 In theory, it's what everyone knows and works so hard to accept.
You're tired, you're overworked, overweight. You're spending too much time with your kids or not enough, you're a fantastic friend and volunteer, but a lousy wife. You work  from home, you raise your kids or you get dressed and dropped them off at daycare on the way to your job. You climb the corporate ladder or you help your child climb the slide at the municipal park. You stay married, you get divorced, you speak up or  you compromise.
Through all of it, we stand beside you. We applaud and we support, we tell you that as long as you know and have the desire to be better…tomorrow, next week, next year, it's enough for now.
We are all just doing our best and we mean it. I mean it. We are all just doing our best in a world that seems to want everyone from us.
The notions, the labels, the principals and the ideology we've grown up with, it follows us around and makes us who we are.
This week at JUST.BE.ENOUGH we are ripping off the labels. Our transformations are inspired by the beautiful Ashley Judd who has asked the world, as a community, to change the conversation. To stop judging one another and come together.
Again, it sounds so easy doesn't it? To just live with other people in mind? To think before we speak or write or gossip?
So how often do you do it? As often as I do, or do you fail as much as I do too?
I come to this place today knowing that I am not perfect, that my family is not perfect..my road to here, Kirsten at 42, was rough and twisty, it was full of very very good days and ones that brought nightmares for a long time.
I am then, now and forevermore a work in progress.
A woman who still acts like a girl, a girl with a big heart and a big smile, a tight hug and an urge to please and help everyone she knows. A girl who doesn't always act in HER best interest but rather in the interest of everyone else. A girl who is still called CUTE by so many people that it's become the one label I can't shake even in 3 inch heels. 
I've been cute for as long as I can remember.
Cute goes beyond the physical in my case. Cute is warm and fuzzy. Cute is accomodating . Cute surrenders and dare I say it can manipulate because of itself. Cute appears harmless and pliable. It cuddles, it coddles, it compromises because it's young, innocent and because I know I am…naive.
Cute is also pratronized quite a bit. Cute is patted on the head and not taken seriously sometimes. Cute is regarded as NOT a threat, but I assure you sometimes Cute can be more than it seems.
I am CUTE. Chances are I always will be.
But there is Strength behind it, there is wisdom and wit and there is self knowing in that word for me. Labels only hurt you if you sit inside them and let them define , they hurt when they tell that world something that isn't true .
In my case, I accept the label.
I know there are others that I am working on quieting in my own head:
Like "the woman whose children are in daycare", "the woman who needed fertility treatments to have her babies" "the woman who dresses her family in the same color scheme every day" "the woman who grew up in a violent household" "the woman who slept around and around and around most of her adult life".
Because of this amazing experiment I asked people what they thought of me. I even took it to Facebook and invited people to give me a word that made them think of me, this is what I was given back:
I'll be honest, it's VERY hard to see myself in these words.
Some I know I wear.
Emotional? YOU betcha!
Thoughtful? I do try to be, although I think I fail more than I succeed at it.
Happy/Positive? Most days. I would rather laugh than cry, or maybe it's denial ..I hide from sad things. A label I don't know if I deserve.
Authentic? Genuine? Sincere? Do you know I felt an ache in my stomach reading those words about myself? I went back to my husband, my sister , my mom. "Am I Authentic?" I asked. "Am I a what you see is what you get kinda gal?" All three said yes and yet, I still don't know. I believe these words are a case of truly wanting to see myself the way the others do.
The thing about labels is that even the really GOOD ones, the ones that you hope people say when they are asked, are still a promise of the kind of person you are and a motivation for you to continue being that way.
If someone calls you Caring, you will work hard to earn and deserve  that compliment, if you are viewed as "UNSTOPPABLE" what happens when you all you want to do is STOP? What happens on lazy days? How do you reconcile your need to just slow down or turn your phone off or simply not answer the texts, the emails, the 575th question your children ask?
Just Be Enough? Well, YES! Exactly!
You see there are words on this picture that I will always gladly accept: KIND: May I always be aware of someone else's journey. SWEET: May people know that I have a smile tucked away for them. LOVING: this is the word I want people to remember, this is the word that I value more than talented or fabulous, more than radiant or classy, I want people to know that I love them, in every moment. That in my own world I do believe (and seen it work) that LOVE is the answer.
Sure it sounds CUTE and Innocent and Naive. But I told you already, those labels I'm just fine with.
and the ones I'm working on….the ones I need to shed because there don't feel right wrapped around me? Well they are my work in progress and I hope you are working on yours too.
We all need to find that space and time every day, to JUST. BE. ENOUGH.
I'm quite sure, this Kirsten, would be happy to know she's still CUTE and LOVING to the people who matter most.
 SO will you join us this week? Will you share your journey and your story and CHANGE THE CONVERSATION with us?
Together, we all stronger than we can imagine.
It is time to look past the obvious for ourselves and our families.  
We're inviting posts from voices everywhere to share your labels and who you are beyond that. The focus is whatever you need it to be– from our lives as moms, dads, parents, spouses, professionals, survivors, athletes and more. We invite you to join us, to celebrate our strengths, to celebrate our diversity, to celebrate our voices and change the conversation.
Come back next Monday for the very special link-up. We cannot wait to take the conversation by storm with our voices.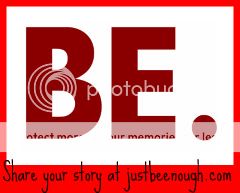 thank you for stopping by from YEAH WRITE!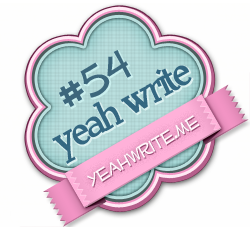 If you are a member of BlogHer