Anthony
How long had it been since he'd touched her in any meaningful way other than a quick peck on her lips?
Years?
Last night he'd watched his wife strip off her clothes and reach for a silky pajama top. He'd wondered, just for a moment, who she was wearing it for. Lately he'd noticed her smile was bright again, like the fog that had settled over her beautiful face the day Zach was born had suddenly lifted.
 "Honey?"
"Hmm?" Katie answered, unable to keep the surprise in her voice masked.
"Everything ok?"
"Yeah" The smile spreading again, "Everything's perfect."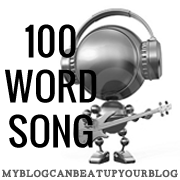 Mel from According to Mags (A new friend of  mine) picked the song for the link up at Lance's this week.
**You haven't heard much from Katie's husband, thought this might be a good time to see what's going on with him **
This is an installment in my ongoing  fiction piece for the year: Gathering Buttercups
Related Posts: