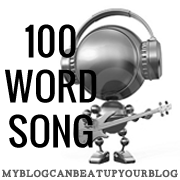 This is a stand alone piece..
His eyes narrowed as he watched her simulate a hug of the suitcase, pulling the two zippers together and then dragging it to the floor.
When she turned he glimpsed the silver trail of tears that had snaked down her smooth cheeks. Lifting her eyes he scrambled to hold them fast with his own while choking back a plea, "Why are you leaving?"
Her pursed lips, the ones he still loved to kiss, didn't move but her eyes answered, "Because you never deserved me."
 The last noise she made as she clicked the plastic handle into place shattered his heart.
So over at Lance's there is a celebration of sorts, it was WORLD GOTH DAY. (I didn't get the memo because I listened to pop songs all day and wore Legally Blonde Pink to work)
anyway, those of you visiting from there, welcome! I am sorry I am not part of the GOTH, Punk Rock Posse, but I do like to play along with the 100 word song, so here I am.
(listen I gave up a long time ago on hoping for a  a song I recognized (and let's not even bring up Nickelback ( I don't like them either) since they make Lance want to "punch kittens" OUCH!) but I'm still holding out for something that doesn't make my ears bleed when I turn it on.
(that said everyone hated my  selection for the 100 song but you still wrote for it so I'm nothing if not a loyal team player.)
 I resort to the lyrics (since I love the words anyway)  and hope I captured some of it.
This week's selection was  made by my good and talented writing friend, Frelle 
WITHIN ME by the Italian goth band Lacuna Coil:
Related Posts: