For Just Be Enough today, we were invited to write a letter to our 16 yr old self, so I thought about doing it, but then I remembered that my amazing and completely phenomenal friend, Jamie of Chosen Chaos, had asked me to write a letter to myself at 18 just a few months ago.
"Why rewrite anything?" I thought.  
I mean how many letters would I write to that permed haired, braces wearing, eyes filled with dreams and romantic illusions girl? This one, when I read it, is exactly what I would say to myself at 16, 18, 30 and maybe 41. (wink)
I encourage any of you who have not taken the time to write to that child you were, to do so. Let them know that where you are right now, is the best possible place to be, because whatever it was that is still holding you back from  all those years ago …YOU SURVIVED!
 here is my letter from Jamie's space, (something I am proud I wrote) 
 
Ms. Kir.… if you had the oppor­tu­nity to sit down with your 18 year old self, what would you say to her?
I sat across from her, look­ing into her as you do a mirror.
I squinted and sat back, con­tem­plat­ing her.
Her fea­tures and smile were so famil­iar, it was as if they greeted me in the look­ing glass every day, but her permed hair hard­ened with hair spray and her blue eyes that were unlined and void of any true sad­ness made me reval­u­ate my first impression.
I leaned for­ward, my hand stretch­ing to touch hers. A gold ring with a dark emer­ald green stone adorned her fin­ger, the Old Eng­lish K unblem­ished and sparkling.
I gasped, "Do I know you?"
She smiled, a mouth of sil­ver twin­kling back at me, and nodded.
I felt her urgency then, how she swung between des­per­a­tion and delight for a glimpse into herself.
She regarded my mere pres­ence as a gift, a prophecy.
I was caught.
I knew at once that my choices were limited.
I could talk to her, dis­close and fore­warn, scare her silly, whis­per the juicy secrets she seemed so eager to have me impart.
I could pre­pare her; for the heartaches, for the roads that she would need every ounce of strength to travel and the grief she would suf­fer as she lost peo­ple, love and dreams.
I thought about tap­ping her hand and stroking her hair, beg­ging her to make good deci­sions, to be care­ful about boys, booze and best friends.
Or maybe regale her with tales of her own shenani­gans and moments that oth­ers may dis­miss as mis­takes and mis­steps. Remind her that life is only as seri­ous as you allow it to be and that the pure act of laugh­ing will save you every time.
How do you artic­u­late the fact that those mem­o­ries are the ones that will keep her warm when her world goes cold?
I could paint her pic­tures of the places she will visit, the lips she will kiss, the hearts that will take her in and let her stay a while, spray­ing the can­vas with col­ors so vivid and rich that they charm and enchant her.
My voice could get con­spir­a­to­r­ial, remind­ing her that it is her dis­tinc­tion and deep emo­tional side that will give her wings to help her fly.
In hushed tones I could remind her to stand out and stand up against all odds.
You do not need to be like every­one else.
So I lifted my eyes and met hers, peered into the same blue pools swim­ming in the same dreamy expres­sion, and made my decision.
As I watched her face glow with expec­ta­tion and hope for all the answers, I said instead:
"Sweet girl, young woman at the start of your path.…you are going to be just fine." 
See, I told her  (ME) that she will be ENOUGH, even when she feels like she's really really not.
Now it's your turn: Write, Link and Share your Story with us.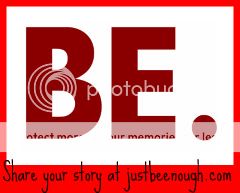 NEXT WEEK'S PROMPT:
or feel free to write any "JUST BE ENOUGH ME" story and share it with us.
We'd loved to read your words!
Related Posts: