**Please go to the bottom of this post and play the video and listen to it as you read my "why".**
"What is your 'Why?'"
It's not a simple question to be asked.
 "Why?" do you live as you do?, "Why?" are you who you are? "Why?"
I realize that I picked an enormously shcmaltzy song to go along with my words, but at the end of the day, this is how I live my life.
Love at the Center of it.
Kindness, Care and Comfort coming in after, it is always Love that sits at my table and encourages me to think better, hug tighter, listen closer and believe deeper. When I was growing up and listening to this song on AM radio in the backseat of the car, sans a seatbelt and with the windows down blowing my blonde hair into my eyes, beyond the catchy melody were the lyrics that spoke to me, even at a young age. Not about romantic love, of which I knew practically nothing about back then, but rather the universal feeling of taking care of one another even in the face of things like racsism, poverty and hate.
My big heart has always been this big, has always been this inclusive and will likely never change. I feel no shame in  telling l you that I think of the lyrics to this song daily and strive to live them when I am consumed with envy or selfishness. I believe in the schmaltz, beyond the catchy tune. I know that it makes me a cockeyed optimist and a probably a fool to some, but if I can't believe in the healing power of  a word, a thought or feeling then my life here on this planet is not well served. I admit that I am not good at a lot of things, but my capacity to love, forgive and care for other human beings seems to be something that I don't have to work at. A smile costs nothing to offer, a hug or word of encouragement is readily available from me and my ability to be empathetic and put myself in your shoes is a quality I'm proud to have, even if my heart hurts by doing it.
I am not running the world, setting it on fire with my passions or ideas, but I am cradling it in my big mushy heart, hopeful for a time when there is acceptance among all of us. There is room for everyone here inside it, even with all of our moral and idealogical  differences.
I want my WHY to be a "Why NOT  just LOVE?"
My daily prayer is just always that I find it in my heart to care and then I go from there.
How about you? What's your WHY?
And when you feel afraid, When you've lost your way, And when you're all alone, And when you're far from home
And when you're down and out, And when your hopes run out, And when you need a friend, And when you're near the end
LOVE ONE ANOTHER.
Please link up with us at Just.Be.Enough. this week, to tell us about how you live your life.
We'd love to see you there.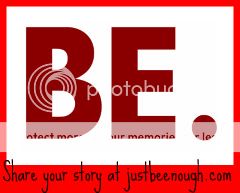 Want to make sure that you get the prompts every week
plus all sorts of other Just.Be.Enough. surprises?
Subscribe to our weekly newsletter (coming out every Thursday).
Related Posts: