Jacob has a new app on his tablet that allows him to record his own voice and play it back.  much like a digital recorder.  He has penned stories and songs, all original content, his own thoughts and imagination pouring itself into his little fingers as he types away and hit SAVE.
He relishes the editing, the intricate tweaking of his own masterpieces, before he stands before me and sings the songs he's written or performs the stories he's woven. He beams when he's finished , so happy that he's captured them in his little black device for another performance later.
I love this side of him, the storyteller side. The actor/performer side. I never interrupt or tell him to change this or edit that because I know that the magic lies in his way of telling it, the story is his and his alone and no one can revise, revisit or recite that tale or tempo but him. I just sit back and listen. And giggle. And sometimes tear up at the creativity he's offering me; his audience.
When I read in the NYC Listen to Your Mother Show in 2012 I was given the gift of an audience. A theatre filled with people willing to hear my story, to listen. There is no greater gift.
So when I was chosen, along with Kristina and Lauren, to bring a
LTYM show to the Lehigh Valley I knew that I would be part of the team that would be giving the gift of an audience to our community and it's storytellers.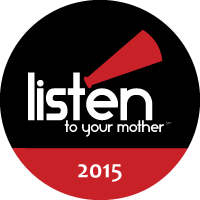 Our auditions are this weekend and I can't wait to sit and simply listen. To offer the people willing to share their stories with me a place, a "stage", to pour their words out about motherhood in all its forms.
We are ready.
We are excited.
We are just as nervous as the people trusting us with their words.
But most of all….
We are ready to listen.
(Wish us luck!)
With special thanks to Jon and Emily at  our #local sponsor Arts Quest /Banana Factory for offering us a place to hold auditions.