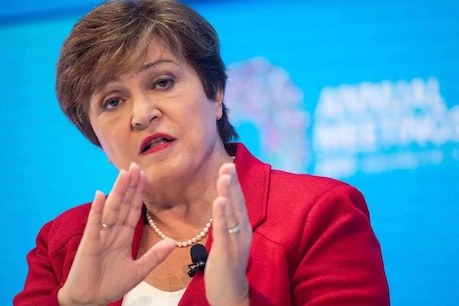 Washington
. The International Monetary Fund (IMF) on Friday hinted at a reduction in projections related to the global economy. The IMF issued a warning saying that if China (China) and America (US) continue to get involved in similar situations, then the world will reach the brink of ruin. The IMF warned the US and China not to get involved in the trade war again, saying that this would weaken efforts to save economies from the epidemic of Kovid-19 (Coronavirus).
According to the news agency Reuters, Kristalina Georgieva, managing director of IMF, was addressing an online event at European University. He said that in the year 2020, the global economy was projected to decrease by three percent, but the economic data of many countries is coming down even further. Christina Georgieva said, "With no immediate medical treatment available, some economies may find it difficult to deal with it. Since nothing can be said definitively about the corona virus, it is affecting the economic forecast.
China will help North Korea
On the other hand, Chinese state media said on Saturday that President Xi Jinping has proposed to help North Korean leader Kim Jong-un to deal with the corona virus. He said that he is very concerned about the situation in North Korea and the health of the people living there. Government TV channel has said that the Chinese way of controlling this disease has yielded very positive results.
Strictly issued by the US
The US on Friday issued new visa rules for journalists coming from China. America says that this step has been taken in response to the treatment of American journalists going to China. In recent months, the US and China have retaliated several times over journalists coming from each other. In March, China had asked some American journalists to leave the country. These journalists were working there for American newspapers. A month later, the US said that it would give the status of foreign embassies to five media outlets controlled by the Chinese government operating in the US. A day later, China expelled three Wall Street general journalists.
Among them were two American and one Australian citizen. This Chinese decision was also linked to an article printed in the Wall Street General. China gave this article a racial agreement. While issuing new rules on Friday, the US Homeland Security Department said that independent journalism is being oppressed in China. The new rules will come into effect from Monday. Under this, journalists coming from China will be allowed to stay only for 90 days, although the option of extending the visa period has been given.
Read Also :
3 White House Corona Task Force personnel went to quarantine, exposed to infected