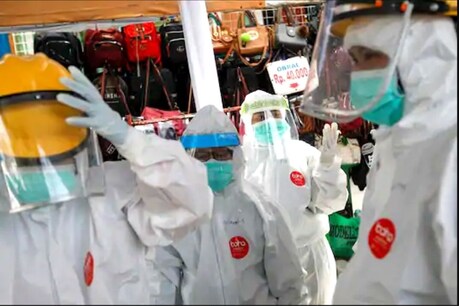 Paris. Starting from the city of Wuhan in China at the end of December 2019, the global epidemic that has become a coronavirus has been the major cause of worldwide deaths in the last few months. Due to this, more than 2 lakh 75 thousand people have lost their lives in this world.
According to the official death list released by the news agency AFP, 85% of the total deaths due to corona virus have occurred in Europe and America.
The number of corona infects reached close to 40 million in the world
According to these figures, out of 39,55,631 patients infected with the corona virus, 2,75,018 people have died.
Europe has been the most affected continent with a total of 16,99,566 corona virus infections and 1,54,313 people have died. At the same time, America is the country where the highest number of 77,280 deaths occurred due to Corona virus infection. This was followed by 31241 deaths in Britain, 30201 in Italy, 26478 in Spain and 26230 in France.
Meanwhile, the speech war continues in Sino-US, accusations of hiding many things on China
Speech war between America (US) and China (China) is also going on in the world constantly battling Corona. In the case of corona infection, America remains an attacker on China. US Secretary of State Mike Pompeo said on Friday that China has also hidden the true figure of deaths from Corona infection (Covid-19). He said that China wants to hide that the condition of Wuhan lab was not good and the corona infection started spreading from there. Pompeo said that we have strong evidence that China is hiding many things from the world.
Mike Pompeo said in an interview to Ben Shapiro on Friday, 'I have seen enough evidence that the lab was not working as expected, there were safety risks and that the emergence of the virus was Probably from there. He said, 'We need answers. People are still dying.
Read Also :

IMF warning - If China and America keep fighting like this, then the world will be ruined